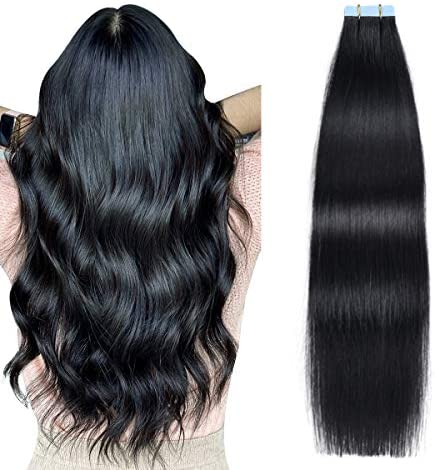 Our SEA Collection are exclusively available in tape-ins!  Tape-in extensions are the perfect way to add volume and length to your hair for a short period, lasting one to two months. Additionally, the extensions are painless, non-damaging, and highly versatile–you can even rock a high ponytail.
It is recommended that a professional stylist installs your investment. Tape-ins can be worn for 8-12 weeks with proper installation and care. Tape-Ins can be reused up to 3 times. 
To add volume you should use 10 to 20 pieces.Thin hair needs 30 to 40 pieces for a full headset.Normal thickness needs 40 to 50 pieces for a full headset.With thick hair you will need 50 to 60 pieces.
*Each set is 40 pieces
 WHAT ARE TAPE-IN EXTENSIONS?
Tape-in extensions are a semi-permanent hair extension method that last 8-12 weeks and are reusable for multiple applications. Tape-in extensions are thin hair wefts, pre-taped, that get bonded in between your own hair and are bonded together like "sandwich" bonds. It is the most requested hair extension method in salons worldwide.
CAN I COLOR MY HAIR EXTENSIONS?
Yes. Our hair is 100% human hair, it can be colored. We always recommend to seek out a professional to color your extensions.
CAN I SHAMPOO MY HAIR AND BLOW DRY IT? WHAT ABOUT SWIMMING?
Yes, you can shampoo your hair and get blowouts without ruining your extensions. Our strong tape is extremely durable and lasts, as long as the scalp does not become excessively oily the bonds will stay. You can swim, workout, go on vacation, and not have to worry about your extensions slipping out.